Outdoor equipment for protection of level crossing
OUTDOOR EQUIPMENT FOR PROTECTION OF LEVEL CROSSING
Electromechanical barrier machine PPB 660A is used for aditional security of traffic on intersections of railways with roads in the same level. Control device of the fender (DM100) is used to control work of the system and accuracy of the barrier PPB 660A. Indication in case of fender breakage are secured by light and sound signals.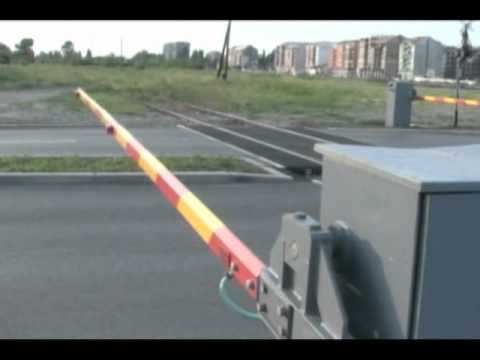 Technical data of the barrier PPB-660A:
Motor with DC current………………………………….24V ; 170 W
Electromagnet……………………………………………….24V ; 2,4 W
Electric heater………………………………………………..110V ; 80 W
Time for up position of fender……………………..5 – 18 sec.
Time for down position of fender……………….6 – 15 sec
Dimensions of the housing………………………….1330×548x500 mm
Fenders are made of light anti-corrosive material that can resist the wind of over 1000 N/m. They are manufactured in lengths of 3,5–7,5 meters without net, or in 3,5–4,5 meters with net. Control insert for fender breakage enables that eventual breakage happen on the insert so that the fender and barrier are
not destroyed. Position red signal light and the reflecting glasses are providing fender lighting.
MAGNETIC RAIL CONTACT (ON-OFF POINTS)
Magnetic rail contact (MRC) enables automatic effect of trains or special rolling stock on signal devices. It can be used as station relay devices, devices for different types of level crossings or as devices for interstation dependency. It is made of four basic sets: frame carrier for magnet, receiver, magnetic relay and fixing panel. Receiver housing and frame carriers are made of casting ALSi 12, casted under pressure. According to the areas of application, there can be several types of magnetic rail contacts:
MRC with work power of 60V which is used as station devices for blocking of forced removal of track route
MRC with work power of 22V which is used for turn-on and turn-of level crossing devices
MRC with work power of 60V for axle counting
It is mounted on the rail foot. When wheel comes to the magnetic rail contact, it effects the magnetic field on the relay which is changed by closing the contacts. For moving the relay and closing the contacts, magnetic field doesn't need electrical impulse.